Gate intercom systems are the smart way to deal with security issues, avoid taking risks, save time and lead a convenient life. When a friend approaches your gate, you can have visual and voice contact with him through your phone and just use one button to let him in. "Gate Repair Sun Valley" is aware of the characteristics of different intercom systems since there is a plethora of them in order to accommodate different needs and demands.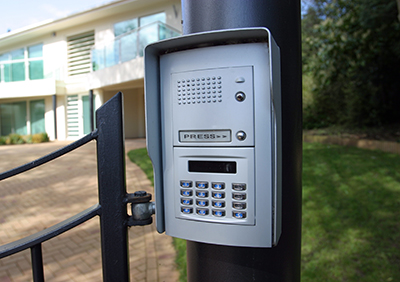 Phone entry systems for everyone and expert intercom pros
The technicians of our gate repair business are all familiar with intercoms, the manufacturers producing them and their products. For this reason, you can be sure of our expertise, knowhow and the quality of the products we provide you with. Aiphone, Linear and Doorking are the top industries and we are certainly experts in their intercom systems. Are you wondering which Intercom System will be most suitable for your home, office or facility you work at? You can count on our assistance, support, technical knowledge and services.
We excel in intercom repair and make sure your system is properly programmed and all people using it are satisfied. Gate intercoms are not manufactured only for family homes. They will actually provide even greater convenience to schools, big facilities and commercial units, office and residential buildings with many tenants. The Intercom System will be different based on the number of tenants and their requirements. Though, most of them allow owners to have two ways communication with their visitors and accordingly deny or grant access.
The complexity of these systems makes intercom installation hard. It's best to rely on the excellent knowledge of our trained technicians, who are familiar with all systems and great professionals. We install intercoms with great accuracy, program intercom systems of any brand right away and can help you learn how to use them. We are exceptional and very meticulous expert professionals and promise installation at your convenience, excellent products and fast response for intercom service repair. You can rely on Gate Repair Sun Valley every step of the way! Don't hesitate to send your questions via email!